Flynatic.com > Cessna Citation Latitude fuselage undergoes wing mate
2013-09-26 Cessna Citation Latitude fuselage undergoes wing mate
Cessna Aircraft Company is today celebrating the successful completion of the wing mate on the Citation Latitude first test article.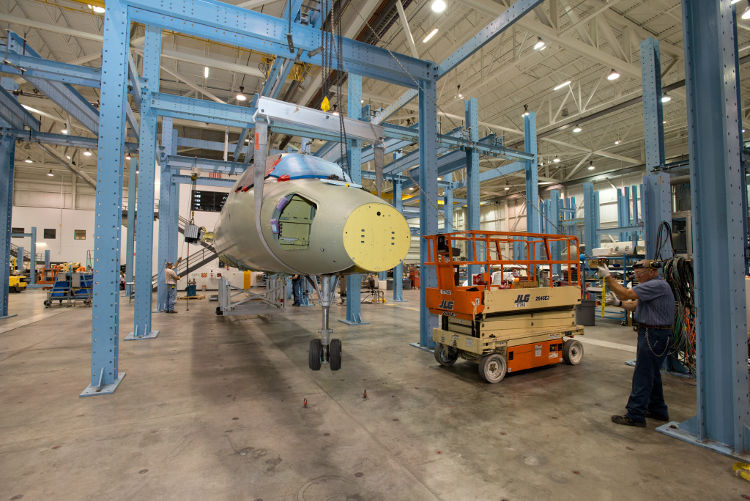 (image: Cessna)
This achievement is another program milestone for the Cessna Citation Latitude as it approaches its first prototype flight expected in the first quarter of 2014.

(image: Cessna)
Terry Shriner, Cessna business leader for the Latitude, says: "It is very rewarding to see an aircraft take shape that, until now, you've only seen on paper, and the Latitude team is enthusiastically looking forward to the prototype's first flight in a few months. This is an exciting project for customers as well, as the Latitude design is driven in part by customer input on performance and cabin amenities. Cessna has always been known for our dedication to the customer, and the Latitude is a perfect example of this commitment."

(image: Cessna)
Kriya Shortt, Cessna senior vice president of Sales, says: "We started with a clear vision for the Latitude - to make the widest Citation, engineered with the performance, luxury and value for which Cessna Citation jets are well known. Now we have seen the Latitude make the leap from concept to reality. This is a fantastic aircraft that will set a new standard for the mid-size category of business jets."
The wingspan on the Latitude will be 72 ft 4 in (22.05 m), while the aircraft will measure 20 ft 11 in (6.38 m) in height.

(image: Cessna)
The Latitude is designed to fly two crewmembers and up to nine passengers to 43,000 ft (13,106 m) in just 23 minutes. The aircraft will have the widest cabin of any Citation jet, has a 6 ft (1.83 m) cabin height, and will be equipped with Cessna's Clairity cabin management system.

(image: Cessna)
Flynatic.com in social media: